Packages Designed For You!
We offer a variety of behavior packages that are designed to be customized for you. No matter what tier you go with, every package includes:
A customized behavior plan, including a google workbook to track progress with
Access to a google drive for ease of sharing video and documents
Access to office hours for a little extra help between appointments
A report for your veterinarian upon request/as needed
Virtual or in home appointments 2-4 times a month (based on package tier, location, and your pet's temperament)
All packages do require an initial assessment appointment. This is a one time appointment that allows us to assess and collect information about your pet's history, set up your workbook, and get you started on your customized behavior plan.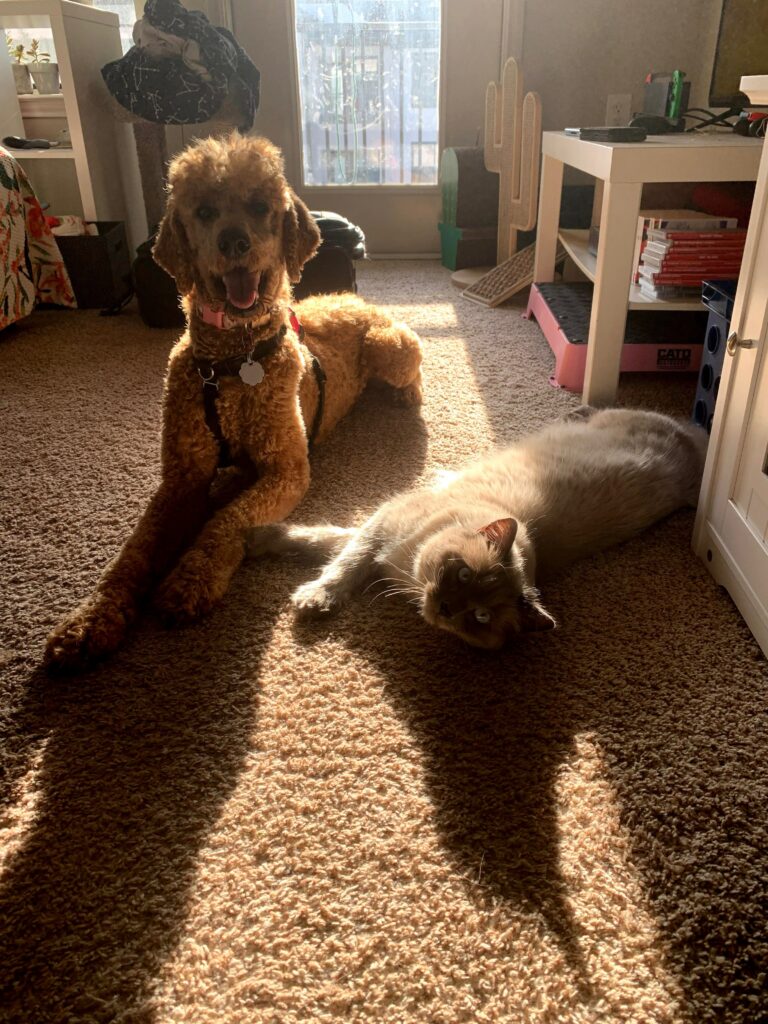 Initial Assessment Appointment
This is a 60-90 minute appointment that will either be online (zoom) or in home, based on our discussion. We'll talk about your animal's history, the behavior issues you're experiencing, discuss management, enrichment, and foundation exercises to get you started on your road to a less stressful life. 
$250-$295 (based on behavior concern)
This is a 4 week package that includes weekly meetings (30-60 minutes via zoom), customized missions 4x a week (you get a weekend from training!). We'll touch base throughout the week to make sure your pet is making progress, and we use Malena Demartini's (creator of the Separation Anxiety Trainer Certification program) systematic desensitization methods to help your pet feel more comfortable being home alone.
$800
This is a great place to start if you're not sure how much help you'll need. This is a virtual only package, and in addition to the services listed above, you also get two 30-40 minute zoom meetings with your behavior consultant a month. During these zoom sessions you will review skills and take them to the next level, and learn more about how to apply those skills in every day life. 
$250/mo
This package is designed for people who need a little extra help with their behavior training. It includes either four 30-40 minute zoom only appointments or two 60 minute zoom or in person appointments, based on your individual pet and location. This is a great package if you need more frequent check ups or occassional hands on help to reach your behavior goals. 
$400/mo
Need a little more help? The gold tier package is a great option for you. If you need someone to give you hands on help weekly, this is where you want to be. This package includes four 60 minute appointments either on zoom or in person based on your pet's needs and location. We'll review skills, practice skills in context, and move your progress forward week by week. 
$800/mo
This package is for people who do not have commitment issues. What you do have is behavior goals that you need help reaching, and the knowledge that this is going to take some time. This is a more intensive program that gets you eight 60 minute appointments that can be used over the course of 1 or 2 months, based on your schedule and needs. 
$1600/mo or 2 mo
Every tier is designed as a monthly subscription service, but it is always month to month and you can stop or start as needed. When a package is purchased it is required to be used in full within the month, so use them or lose them. Individual appointments will be scheduled in advance, but should they  need to be moved around we are willing to be flexible, just communicate your needs and we'll be happy to work within them! And of course, if you ever have any questions or concerns, we are just a text, email, or phone call away!